ARMOUR BODIES

When you want the best in Fiberglass Bodywork...
You want Armour Bodies!
At Motospares / Roost Industries we are the official Australia supplier of Armour Bodies Fairing Kits. We have an exclusive contract with Armour Bodies that helps us supply you with lower cost fairing kits, and without the hassle of importing them yourself. We believe these kits to be the best race fairing kits in the industry. If you are looking for the ultimate in fibreglass race fairings, look no further!
​
In Roadracing World's test that featured the top 9 brands of fibreglass fairing kits, Armour Bodies at the front of every major category! With exceptional fit, finish and offering "zero damage when flexed" you can see why Armour Bodies is a real "showstopper". Click here to download the article.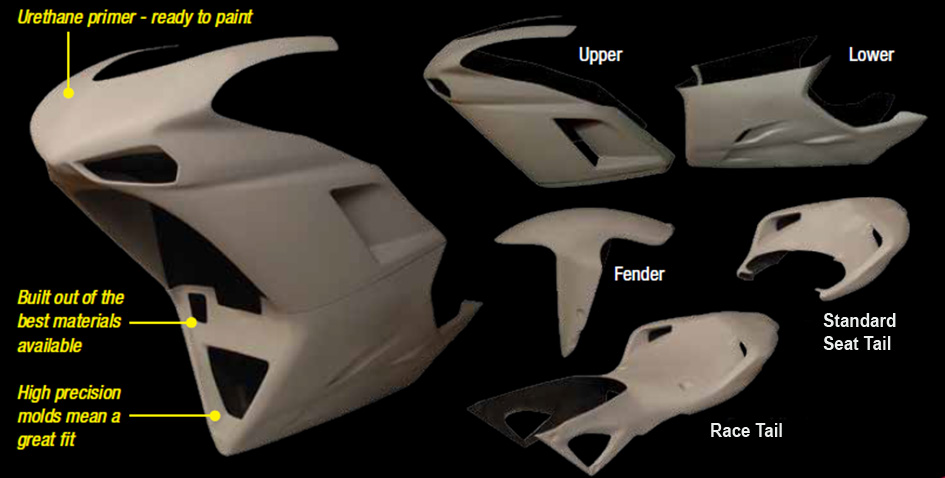 ARMOUR BODIES PRO-SERIES
Pro Series fit, finish, flexibility and crashworthiness have made it an industry leader. This is anything but just another bodywork set. The quality is apparent as soon as you pull it out of the box.
FULL SHEET FIBERGLASS
Each kit is assembled from a full sheet of fibreglass allowing for the strongest, lightest bodywork possible. Other manufacturers save money using scraps of fiber­glass in their kits, making them heavier and brittle. Pro Series bodywork will often survive a crash that would leave some other bodywork in pieces.
SPECIAL RESIN
Armour Bodies uses a special resin derived from the kayak industry. Originally created to withstand rocky impacts, our specially formulated resin provides superior flexibility and weight savings. This resin also has a very low shrinkage ratio, ensuring a perfect fit.
FINISH
We spend more time finishing our bodywork than any other manufacturer in the industry. Every kit is meticulously finished, filling holes and sanding edges to ensure a perfect surface on every kit, as well as a coat of Matte Black paint on the inside of all panels. The bodywork is finished on the outside with a Hydroxy Acrylic (2 pack) primer, ready to paint with just a light scuff, saving you time and money in the booth.
CARBON/KEVLAR REINFORCEMENT
Armour Bodies has raised the bar once again by adding Carbon/Kevlar reinforcement to all the mounting areas at no extra cost. These reinforcements help prevent cracking at the mount points during a crash, keeping your bodywork intact and on the bike where it belongs. Our flexibility, finish, fit and price set us apart from all others.
Each Armour Bodies fairing kit comes with:
All panels required for the bike such as upper, lower, front guard and tail. Please note: only Honda CBR600RR & 1000 kits come with a tank cover)

Windscreen - all Armour Bodies upper fairings are standard screen shape, so you can use your own screen if you wish.

Dzus fastener kit
You will need:
Well nuts from the original windscreen

Factory bolts for fitting to the frame

Seat foam (if

Race Seat Tail

ordered)

A good set of tools

A mate to help, a beer and an afternoon
Armour Bodies fairing kits are used by riders such as
Eugene Laverty - Team Parkalgar Honda - UK World Supersport

Ben Bostrom & Roger Lee Hayden - Team Michael Jordan Motorsports - Superbike AMA

California Superbike School - Worldwide
How long will my kit take to be delivered?
Your order will typically take 1.5 - 4 weeks to be delivered. How quickly we can get your kit to you depends on a few factors such as where you live and our current stock levels. If you want to confirm the lead time, it is best to contact us before ordering.
What is the difference between Race Seat Tail and Standard Seat tail?
A Standard Seat Tail uses the OEM or stock seat. This makes it softer and more comfortable.
A Race Seat Tail takes out the OEM seat and it is replaced by a seat support, seat pan, and an adhesive seat foam. This is slightly stiffer, allowing for more feedback from the bike.
How do I mount my kit?
Here is a set of general instructions on mounting our bodywork.
Click here to download PDF file.
What are Armour Bodies kits made out of?
Industry-leading fibreglass/kevlar and special resin. Originally created to withstand rocky impacts on lightweight racing kayaks, our specially formulated resin provides superior flexibility and weight savings. This resin also forms the best available bond with common fibreglass repair kits, giving you the most durable repairs possible should you ever need to fix your bodywork.
Can I purchase Armour Bodies kits painted?
Simply put, no. However, Armour Bodies comes with an industry leading urethane primer that needs only a light scuff and is ready for paint. This not only leads to a beautiful finish but also saves in preparation time so your painter will love you for it.
What if my bike is not listed on your website?
Assuming your bike is currently being used in racing, we are most likely working on it. Shoot us an email to be sure though.
Armour Bodies Vids
---