DOCTOR GLASS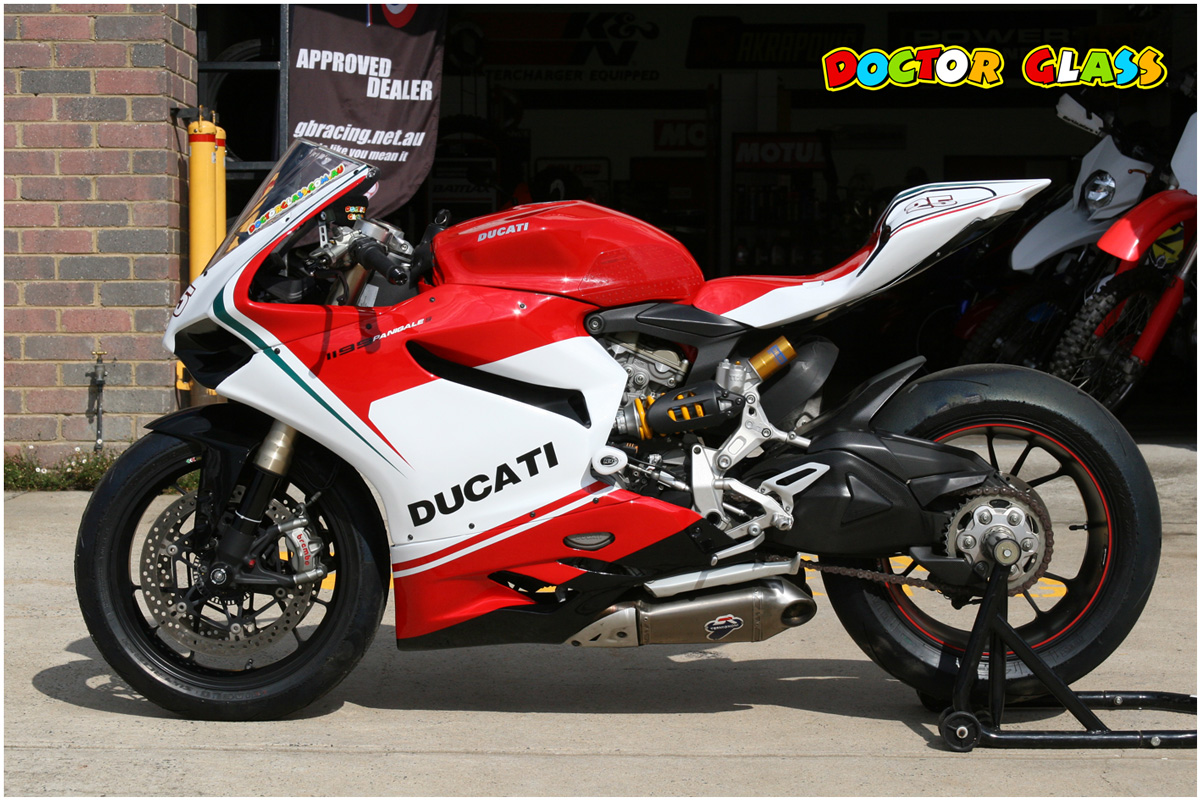 A new name in affordable quality race fairings is here!
Click the links below for answers to our most frequently asked questions.
- Who are we?
- Shipping Information.
- What's the quality like?
- What's included in a full fairing kit?
- Are the fairings pre-drilled?
- Is the seat foam pre-cut?
- Will it fit perfectly?
- Can you Fit and Paint for me?
- Click here to see our customer bike page
- Click here to view the Dr Glass Fairing Fitment Guide

Don't forget to check out our other race-related products such as Fairing Brackets, Crash Protection, Traction Pads and Lap Timing.
After a lot of time and effort, we sourced an offshore manufacturer who could get the job done at the right price while still allowing us to maintain our own quality control, with the end product being a quality race fairing at an awesome price to the consumer!
Doctor Glass Race Fairings are a quality, affordable brand of glass, with kevlar re-enforcement on all the mounting points to add strength. At an average of around $895.00 per set (prices vary according to model and year), Doctor Glass is where it's at for affordable, quality Race Glass. Why pay more!
Shipping information -
All Doctor Glass fairings are shipped free worldwide via EMS courier with a tracking number provided. Fairing kits are made to order, then safely bubble wrapped and packaged for transit. Shipping usually takes 2 - 4 weeks and all shipments are guaranteed against damage during transit. We may even have your model already in stock so feel free to contact us to discuss shipping times before you order.
Pick up and viewing is also available from eastern suburbs Victoria Australia, please contact us for details.
What's the quality like -
One of the most common questions we get asked is "What is the quality like?" We have spent many years in the motorcycle industry, both as racers and as motorcycle mechanics supporting major race teams such as Honda Australia, Redwing Honda Racing, YRDT, Dynoverks Racing Team and Advantage Racing and have over that time used many brands of race fairings, so we know a good set when we see one!
Doctor Glass is an overall good fitting, solidly constructed race fairing with Kevlar and Carbon Fibre re-enforcement as standard, that is finished in an easy to sand Gelcoat, ready to prime and paint. They are a budget fairing kit, which means there may be slightly more work involved in sanding before painting, but it's very minimal and the savings are huge! They are all race compliant (except some Ducati models that do not have an enclosed belly pan) and are suitable for every level of competitor and budget from A grade racing to track day regulars.
Viewing of Doctor Glass race fairings can be arranged at our shop in eastern suburbs of Victoria Australia, please contact us for details.
Whats included in a full fairing kit -
All Doctor Glass full fairing kits come with fairings, screen & screen well screws, Dzus fasteners and a Standard pre cut seat foam.
This is basically everything you need for assembly, minus the factory bolts from the bike that you'll need to mount the fairings to the mount points on the bike's frame.
Pre-drilled Holes -
Doctor Glass Race Fairings do not come with pre-drilled holes. Fitting race fairings to a road bike is not a difficult process but sometimes pre-existing damage to a bike, such as a radiator slightly out of centre, can cause the fairing mounting position to differ slightly from standard. It is for this reason that we do not pre-drill our fairings, so that there can be some adjustment in the final mounting position. Mount points on the fairings do have recesses in the mold where the holes need to be drilled, but these recessed areas are slightly larger than the hole size to allow a bit of flexibility for ease of fitting.
Please note: Although Doctor Glass fairng kits come complete with Dzus Fastners and Screen Well Screws, the original factory frame bolts must be used wherever the fairing is mounted to the frame of the bike.
Is the seat foam pre-cut?
Standard Seat foams are supplied free with all our Race Seat Tail kits. The Standard Foam shape supplied is a generic pattern that will fit most kits, although some minor modifications may be required. Every fairing kit with a Race Seat Tail we sell includes a pre cut Standard Seat Foam. If you wish, you can upgrade to a Pro Seat Foam during checkout.
Click here to view our pre cut seat foams.
Does Doctor Glass fit perfectly first time?
This is one of the most commonly asked questions we get and the honest answer is "not always". Although we take every care in the manufacturing process of our fairings to ensure proper fitment the fact remains that there are many variables that can throw off perfect fitting of race glass, such as a damaged bike or even movement of the glass during shipping.
We have literally fitted up 100's of sets of glass of varying brands over the years and the simple fact is that even the most well produced glass rarely fits perfectly the first time around, and the fact is that it really doesn't matter too much. here's why...
A bike that is slightly out of square can easily be fitted with our glass because the mounting holes are not predrilled. This means that you can adjust the mount points/holes so that the glass fits perfectly every time. Also, if glass has shifted or flexed during shipping is simply a matter of flexing it back and mounting it in position. Then, once the bike has been run a few times the process of heating and cooling the glass will cause it to "set" to the mounted position so that next time it is removed it will go straight back on again without any hassles. It's as simple as that!
Painting and fitting -
Why bother with the hassle of painting and fitting your own fairings? If you live in Victoria we can do it for a price so low you'd wonder why you'd ever bother yourself!
Please click here to view our price for painting and fitting
---
---
Product Reviews
Good package
By:

R6 track bike
Pretty solid fiberglass kit. A little heavier than some, but durable as a result. Fit is good.
Good product, high quality.
By:

Dave
Great race seat foam for my Daytona - it fits perfectly. The only downside is that it did require extra adhesive because of the sharp bend radius at the edges of the seat, but that was quick and easy
Great product, great fit.
By:

Kym
Great quality, adhesive backing is superb, this is the 2nd one of these I've had now as I used one on my R6 I raced last year, the foam never showed signs of wear after a full season. I've pu
bump pad
By:

Jeff Wooldridge
Top product Quick service & great price.
Great service and great grip for racing
By:

Ray
Applied to my S1000rr the night before Phillip Island. Really assisted in gripping to the bike when late braking
Just what the doc ordered - bloody good fairings,
By:

Xan
Just about finished installing Doctorglass fairing on my 15 BMW S1000RR, job went pretty smoothly, all the key mount points lined up really well, very happy with the product. Jake's easy to deal
Grear Fairings & Value for Money !!
By:

Craig McDonald
I have purchased Dr Glass a few times for various race bike builds over the years. First off I am always impressed with the service from Jake and the team, the race glass arrives quickly and is alway
Racing seat foam - Good product
Fast delivery and item works as expected
racing seat foam
this product came up to my expectation. It was the right fit, with the measurements on web site i was able to deduce the correct fit for my purpose. The product is very well cut and shaped which mea
---