RK CHAINS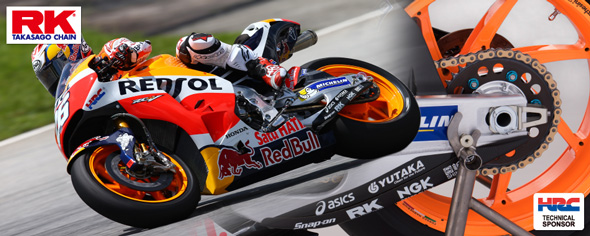 History
For almost hundred years, Tsubaki has been dedicated to improve the quality of roller chain. No one knows exactly when the idea for roller chain was first conceived but brilliant 15th Century inventor Leonardo da Vinci produced a series of sketches illustrating basic chain. Until today these sketches are still fundamental for the design of today's roller chain. A magnificent testimony to the effectiveness of its original design.
Achievements
Although the basic principle of the roller chain still remains unchanged, developments to the product are made constantly in order to meet today's requirements of the motorcycle industry. Tsubaki has been developing motorcycle chain products for over 40 years, starting from standard ASA 50/60 series to first sealed O-ring series in the late seventies to today's premium TX4-ring chains series. Today our program is based on customer demand. From small moped chains to premium TX4-ring racing chains.
Why Tsubaki
Tsubaki products are produced according to the highest Japanese manufacturing standards. These high quality standards ensure a product which will guarantee maximum performance under all riding conditions.

Tsubaki features
• High tech
• Heavy load applicable
• Most reliable
• Low friction
• Superior performance
Please Click here to view the Tsubaki Off Road Series Brochure
RK Chain
Since the RK Takasago Company first began production of chains for motorbikes as far back as 1953 the name RK has been synonymous with quality.
RK Takasago chain has also been researching and developing high performance sealed-ring chains for use on modern motorcycles for over thirty years.
RK has also produced leading edge technology in specialized areas with the ultra-thin Teflon "U" Ring chain being a classic example of RK's commitment to on-going research and development.
It's no wonder RK has had relationships and is producing chain for a large number of OEM manufacturers such as Honda, Yamaha, Suzuki and Kawasaki.
RK is also proudly associated with Australian Factory Race Teams including Suzuki, Honda, Husqvarna, Aprilia and MV Augusta. A number of world class race teams also put their trust in RK chains to ensure the ultimate in reliability and performance.
With the support of motorcycle enthusiasts worldwide and after incorporating over fifty years of achievements and experience, RK TAKASAKO CHAIN offers superior road and off-road chain technology that meets the demands and desires of today's motorcycle riders.
---