Racechrono - FAQ




FREQUENTLY ASKED QUESTIONS
Below we have tried to answer as many FAQ's as possible and are constantly updating this page. If you have a question or concern that is not answered here please contact us. We'd much rather take the time make sure you are properly informed and happy with our product than have you waste time trying to figure it out at the track.
How accurate is RaceChrono?
Under normal conditions (correct mounting of GPS receiver with no obstructions to clear sky) the Racechrono system will achieve a timing accuracy of +/- .05 seconds.
Will weather affect GPS signal?
Poor weather, such as overcast skies and rain can have an effect on GPS signal levels but these effects are generally negligible and do not make much difference to timing accuracy.
Where do I mount my TouchScreen unit on a race/track bike?
A TouchScreen unit should be mounted in an area on the bike that is flat and in a position where you can still see the screen when riding. Some suggestions are: forward on the tank, the top triple clamp, on or near the dash, on a custom mount.
How do I make a custom mount for a road race/track bike?
With not much more than a drill, hammer, hack saw, vice and screwdriver, a custom mount can be easily manufactured from a piece of 2mm plate aluminium by cutting and bending the aluminium into a flat support that can be mounted (screwed) to a motorcycle's stay bracket (dash bracket). The 3M Dual Lock tape, supplied with the timer, can the be applied to the mount so that the lap timer can be easily fitted and removed. See below to view a pic of one of our custom mounts.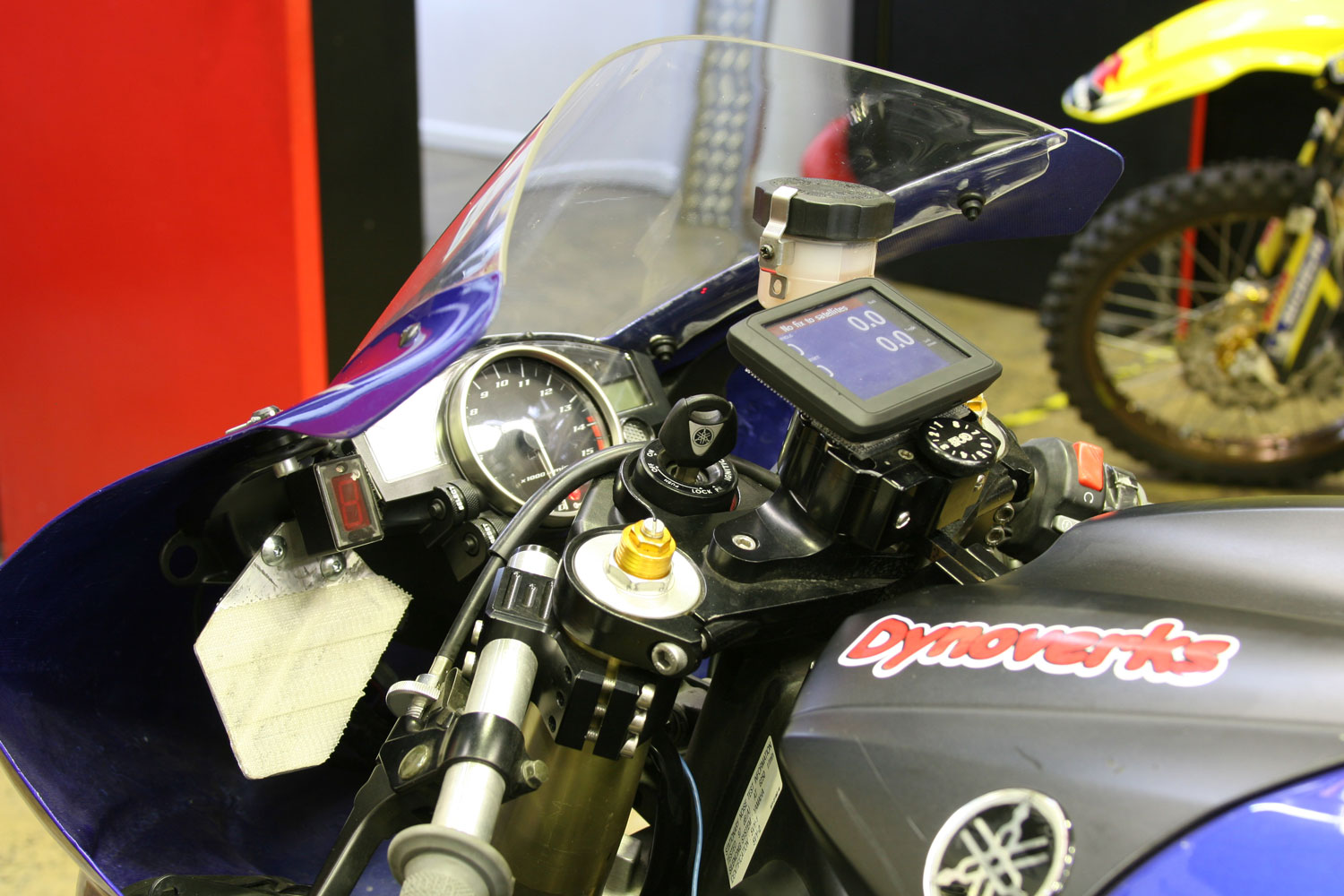 What is OBDII?
OBD-II is a standard enforced on vehicle manufacturers to allow access to On-Board Diagnostic (OBD) information.
Modern vehicles rely on computers to control and monitor all aspects of the vehicle's operation. Today's car contains numerous onboard electronic control units (ECU's) which are advanced computers responsible for engine management, transmission, anti-lock brakes and many other functions too.
Each ECU relies upon a variety of sensors to monitor vehicle operation such as speed, engine RPM, coolant temperature, and oxygen sensors. While driving, if the vehicle's onboard computer system detects a problem the computer reports the error using a Diagnostic Trouble Code. A Diagnostic Trouble Code number is the method by which the ECU reports a problem with the vehicle. Only scan tools may be used to access these diagnostic trouble codes.
I'd like to set up my timer for OBDII, where can I purchase an OBDII to Bluetooth device?
The most popular and recommended OBDII to Bluetooth device for use with the RaceChrono TouchScreen is OBDkey. We have them available for purchase individually or as a kit with the RaceChrono TouchScreen.
Click here to purchase OBDkey - $169.00
Click here to Purchase RaceChrono TouchScreen OBD - $699.00
Note: Please make sure your vehicle is compliant before purchase as there are no refunds.
Is my vehicle OBDII compliant/compatible?
If your vehicle supports OBD-II the OBDKey products will be able to access data from your vehicle. The following summarises the list of vehicles on which OBDKey will work:
Works on all 1996 and newer cars built for the USA market and light trucks that are OBD-II compliant

Works on all 2001 and newer petrol cars built for European and Asian markets that are OBD-II compliant

Works on all 2004 and newer diesel cars built for the European and Asian markets that are OBD-II compliant
Compatible Vehicles
Works on all OBD-II or EOBD compliant vehicle's worldwide. Including: U.S. Models - European - Japanese - Asian - German - Korean
Click here to visit the OBD support page on the OBDKey site.
Where can I download the full RaceChrono Touchscreen Manual?
Click here to download the RaceChrono TouchScreen "Full Manual"v1.42
Does the RaceChrono TouchScreen plug into a PC to download relevant information, track times, etc that can be viewed on PC?
Yes, there is a PC version of the software available from here that you can use to view your times on PC. Data is transferred to PC via a supplied USB cable or you can simply remove the memory card and plug it into a card reader and grab your data that way.

Where can I download RaceChrono for my PC?
Click here to download the RaceChrono XP/Vista/Windows 7 for your PC.
Can I see the RaceChrono software in action before I buy?
Yes you can! Simply download and install the PC version and you will be able to look through an existing sample session.
Is the TouchScreen unit water resistant?
The touchscreen unit is not water resistant, but because it relies on information from the External GPS receiver which is water resistant (supplied with the Pro System) it does not have to be mounted with GPS reception in mind. This means it can easily be fitted in a dry position on a bike, and with the use of the 3M dual lock mounting tape, it is easily removed for carrying in a pocket or under a seat in the event of wet weather.

Is the Bluetooth GPS receiver water resistant?
Yes, the Bluetooth GPS receiver (Pro System) is water resistant against light rain. This receiver can also be mounted under plastic or fibreglass and reception is not affected.
How many laps and sessions can the unit record and store?
Typically a 20 min session takes about 3-4meg and there's about 1800 meg spare on the memory card. The TouchScreen unit also excepts larger cards up to 8GB.
When creating a new Track or Leg, if I do my laps first can I then add the start/finish line, splits etc and retrieve the data?
Yes, absolutely. If, for example, you were at a Targa event and you did not have time to set the Leg up first. You would simply drive the Leg then afterwards open the Traveled Route and add the Start, Splits and Finish lines. The RaceChrono TouchScreen Lap Timer will then calculate your times, speed, etc for that Leg.
I have accidentally deleted all the software of the memory card, what do I do?
If you have deleted the software from the card then you will need to reload it. Please contact us for instructions.

How long will my RaceChrono TouchScreen Lap Timer take to arrive?
If you are in Australia, you can expect your new timer to arrive within 2 - 3 business days from the date of your order. We ship all orders within Australia via Couriers Please and supply a tracking number.
If you are in any country other than Australia you can expect your new timer to arrive in 6 - 7 business days. Unless specified during purchase, we ship all international orders via registered post. There is no tracking supplied but a signature is required upon delivery. Faster delivery options with tracking can be selected during purchase process but these will incur fees at the buyer's expense.

TROUBLESHOOTING
Turn the unit on then click SETTING – RIGHT ARROW – RIGHT ARROW – NAVIPATH

Make sure "Navigation Autorun at Power on" is selected.

Now click the magnifying glass then SDMMC – PROGRAM FILES – RACECHRONO – RACECHRONO

Click X (top right) – X again – GPS

RaceChrono should now start.

Turn unit off and on again, RaceChrono should start from Power On.
Make sure the unit has been charged.

Make sure the memory card is inserted correctly.

Make sure you have not accidentally deleted the PROGRAM FILES folder from the memory card.
Make sure the Qstarz GPS Receiver is fully charged and switched to 5Hz before searching.

Make sure both units are within 3 metres of each other before searching.

Turn both units off then back on and try again.
Make sure you have the correct track selected.

Make sure you have given the unit or external receiver enough time to acquire new satellites before entering track.

Make sure you can see a fix to at least 4 satellites on the timer screen before entering track.

When using an external GPS receiver, after you have set up the unit for lap timing make sure you don't walk away from the external GPS with Touchscreen unit in hand. This will break the Bluetooth connection and no lap times will be recorded.
If you are NOT using an External GPS make sure you have placed the Touchscreen unit in a position that has clear view to the sky and not obstructed by metal objects. Try a few different positions to see where you get the best reception.

If you are using an External GPS make sure you have placed it in a position that has a clear view to the sky and not obstructed by metal objects. Try a few different positions to see where you get the best reception.

If you are setting up in an undercover area such as race pits, make sure you go outside and wait until you can see the unit has fixed to at least four satellites.

If you are at the track for the first time or are using RaceChrono at a different track from the one you were at last time, please turn the unit on and sit it outside for 5 mins so that the GPS can acquire satellites for the new area. If you are using a High Speed External GPS Receiver please do the same with that.

GPS signal strengths can vary from place to place and are subject to weather conditions. Poor weather can result in poor GPS signal. On days of poor weather try to place your Touchscreen Lap Timer or GPS receiver in the best position possible for good GPS reception.
If you are using the RaceChrono Basic System then the resulting data will be low resolution and look a bit messy. This is because the internal GPS in the unit is only 1Hz and delivers less information to the software, resulting in low-resolution graphs, travelled routes etc.

If you are using and External GPS you may not have it mounted in a position where it is getting good GPS signal which is resulting in poor data flow. Please try to move your External GPS to a better position and keep an eye on the fix to satellites.
This is most likely a result of poor GPS signal. Try to move your GPS receiver to a better position.
If you're having problems with the touchscreen being tricky to navigate, most often this is because the screen needs to be calibrated. To calibrate the screen simply go to system setup and follow the on-screen instructions.

Here's how to get there: START SCREEN - SETTINGS - DEVICE SETTINGS (scroll down and you'll see it at the bottom) - SETTINGS - SYSTEM (click right arrow 3 times) - CALIBRATION. Make sure you use the scribe/pen to perform the calibration.
If you're having problems with the installing or running RaceChrono on a Windows 7 or later PC, try installing or running the software using " Compatibility Mode". Simply right-click on the RaceChrono program and click "Trouble Shoot Compatibility"




RaceChrono will work when installed in XP mode.