Description


RaceChrono TouchScreen - PRO System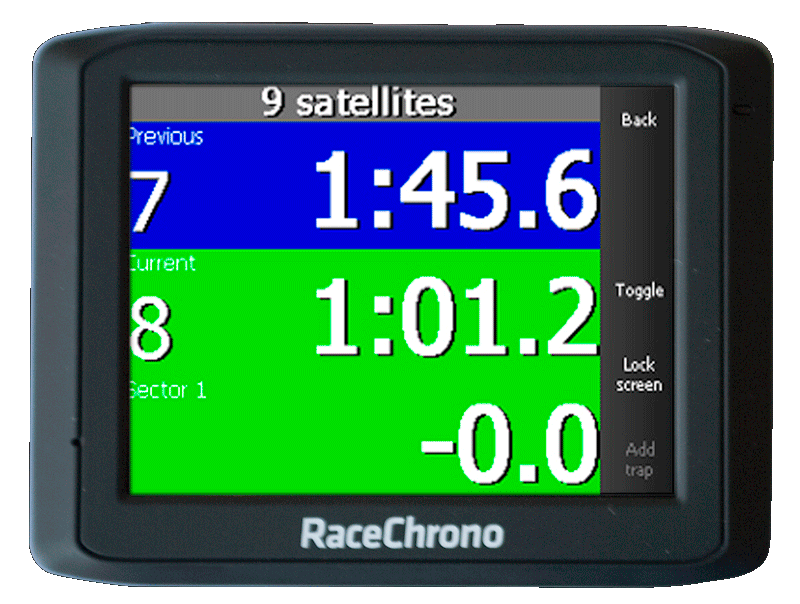 Free Shipping Australia Wide!
RaceChrono, the name behind the world's most popular GPS Lap Timing software, have developed the best lap timing system available for road, off road, cars , bikes, karts and many other applications for the right price.
The PRO System (unlike the BASIC system), comes with the addition of a Qstarz 818XT High Speed GPS Receiver (required for use in high speed situations) and is everything you'll need for circuit racing, sprints, hill climbs, performance tests and loads more.
The RaceChrono PRO TouchScreen GPS Lap Timer is no ordinary lap timer. Unlike transponder type timers this unit does not require a trackside beacon to operate, simply mount on your bike/car/kart then set and forget! The unit uses GPS technology to capture data about your speed and position everywhere on the race track and provides you with the information you need to get lower lap times.
Using the internationally recognized RaceChrono Lap Timing software this fantastic little bit of technology is so much more than just a simple lap timer. It is a complete racetrack data analysis system capable of recording all your on track data to a Micro SD Card, then providing detailed maps and graphs of your laps for you to analyze either on the TouchScreen unit itself or on your PC/Lap top for even more detailed scrutiny.
Check out the huge list of functions:

Speed Graph (see your speed anywhere on track)

Comparison Mode (overlay your laps with other laps, laps from other sessions or another rider's)

Stealth screen lock, shuts screen down to save power and stop unwanted inputs, unit looks like it's off then easily re-starts with glove compatible slide bar.

"OBD-II Reader Capable" - can monitor an OBD-II Reader (not included). Connected to a car ECU an OBD-II Reader can provide information such as revs, temp, speed and throttle position

At events where lap timing is not allowed the unit can be mounted discreetly, or carried in a pocket

All local tracks come preloaded for no hassle setup so there is no need for annoying setup laps and track creation at the start of the day.

Huge online track library available for download with currently over 200 tracks in 40 countries worldwide

Tracks can be easily created if they are not found in the library

Easily transfer lap timing data via Micro SD Card to PC or Lap top for more detailed analysis

Perfect for Cars, Road Bikes, Off Road Bikes, Karts, Bicycling, Skiing and even Horse Racing.

No more need for annoying transponders. This system requires no beacon and is simply a matter of set and forget before each session.

Accurate lap times of + - .05secs in normal conditions

No more arguing with your mates at the pub! All race day data is stored on your TouchScreen's internal memory and can be recalled at any time to settle a bet

The RaceChrono TouchScreen Lap Timer Pro System comes complete with its own, purpose built, 3.5" TouchScreen and a top of the line Qstarz High-Speed Bluetooth GPS receiver, for super accurate lap times and high-resolution data capture.
We have used many different lap timing systems over the years and the RaceChrono TouchScreen GPS Lap Timer outperforms them all... Here's why:

With the Pro System the GPS receiver (about the size of a match box, see pics on the right) is separate to the viewing screen which allows you to place it on your duck tail where it gets the best reception, or even in the hump in your race suit if you need to hide it. Other GPS lap timers don't use a separate GPS receiver so on motorcycles/karts they need to be mounted up near dash where you can see it but it restricts the GPS receivers ability to pick up an accurate signal as often the positioning of the unit is not optimal for GPS reception... How do we know? We've used them before.

RaceChrono Touchscreen has most local tracks preloaded so you don't have to run "setup laps" as with other more expensive GPS timers.

Because the more expensive brand GPS timers use internal GPS units they cannot be hidden from view. The RaceChrono TouchScreen Lap Timer can be stowed under a seat or even in a pocket, away from prying eyes.

It's cheaper!!! Why pay more? The RaceChrono Touchscreen Lap Timer is the lowest priced pro level GPS timer on the market!

$549.00 AUD for the Pro System it's one of the lowest priced professional GPS lap timing system on the market!

If you have any questions about the RaceChrono TouchScreen GPS Lap Timer please feel free to Contact Us. We are experts in GPS Lap Timing and provide full support for all of our products, we are more than happy to answer any of your questions.

We highly recommend the RaceChrono Pro System be used for all motorcycle/kart lap timing and serious car lap timing. The RaceChrono Basic System should only be purchased if you already have a high speed bluetooth receiver to use with the system.
Qstarz receivers can be purchased separately from us for $98.95.
Click Here to view information on Qstarz High Speed Bluetooth Receivers.

If you're not sure which system will work best for you, please feel free to Contact Us.

What's in the box:
1 X RaceChrono 3.5" GPS TouchScreen Lap Timer
1 X Power supply - AU/EUR/US wall charger (please specify when ordering) - used to charge both TouchScreen unit and GPS receiver from a mains power point (adaptor is required for foreign countries).
1 X Power supply (12v car charger)
1 X USB cable
1 X Car windscreen mounting kit
4 X 3M Dual lock mounting tape strips
1 X Quick Start Guide & 1 Year Warranty

1 X Qstarz High-Speed Bluetooth GPS Receiver
1 X Power supply (car charger)
1 X Li-ion battery
1 X USB cable
1 X Quick Guide & 1 Year Warranty Card
Specifications
| | |
| --- | --- |
| SKU | RCPRO |
| Brand | Race Chrono |
| Shipping Weight | 0.8000kg |
| Shipping Width | 0.250m |
| Shipping Height | 0.160m |
| Shipping Length | 0.160m |
Reviews
Be The First To Review This Product!
Help other motospares users shop smarter by writing reviews for products you have purchased.
---
Others Also Bought
---
More From This Category